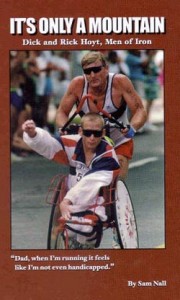 I saw this video and I was floored.  Here is a father with the goal to integrate the handicapped into every day life.  He has created an organization called Team Hoyt to educate the able bodied on the challenges faced by the handicapped every day.  The organization also focuses on integrating the handicapped into events that they typically would not be able to participate in.
This family is amazing.  The father, Dick Hoyt, competes in triathlons.  While that in itself is an amazing feat, he does it by involving his full grown handicapped son Rick.  During the 2 mile swim, his son sits in a raft that his father pulls while he swims.  During the bike ride, Rick rides in a chair mounted on the front of the bike.  During the marathon run, Dick pushes Rick in a racing chair.
The love shared by father and son is amazing.  The strength and compassion demonstrated by Dick is inspirational.  The overwhelming joy that exudes from Rick's face during the event is awe inspiring.  This father/son combination is a tribute to everlasting love and the desire to be together that few families ever achieve.
My hats off to Team Hoyt and I wish them the best in all that they do!
httpv://www.youtube.com/watch?v=GRHxHapwirw